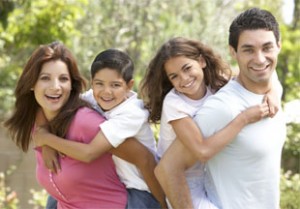 As a Reading family dentist, we are passionate about keeping our patients in excellent oral health using all the tools at our disposal. At Muhlenberg Dental Associates, we can provide you with a dental checkup, dental cleaning for teeth, and preventative dental care. We are a 19605 kid friendly dentist who can treat everyone in the family, making it easier than ever to stay in excellent oral health.
Learn About Different Types of Dental Examinations From a Family Dentist
Initial Exams. The first time you visit our Reading, PA dental office, we will conduct an initial exam. As a family dentist, this involves us inspecting each of your teeth and all your gums, along with taking images of them. This is necessary for us to determine the full extent of any oral health challenges you are facing. This is a good time for you to inform us of any concerns you may have or things you do not like about your smile, so we can present you with comprehensive treatment solutions.
Dental Checkups. As a general dentist, we recommend that you schedule a dental checkup for twice a year. This allows us to remove plaque and tartar that has built up over time and keep your teeth as healthy as possible. We can also identify signs of infection or decay early and treat it before you experience discomfort.
Comprehensive Examinations. Our comprehensive examinations include more than a dental cleaning for teeth. We also look for signs of health problems and oral cancer. Early detection is key for beating this disease, making a comprehensive exam critical to your overall health.
Emergency Care. As a 19605 emergency dentist, we understand that you cannot predict or control when you or your children will get a toothache or be in an accident. We are here to help when you need us. Simply call (610) 929-7900 and schedule an appointment with our emergency dentist office so we can restore your oral health.
6 Month Re-Care. At Muhlenberg Dental Associates, we will let you know if we are concerned about specific aspects of your oral health. As a family dentist, we may want to check to make sure your partial dentures are still fitting correctly. As a kid friendly dentist, we may need to inspect the dental sealants placed on your child's teeth. As a general dentist, we could need to inspect the site of a previous infection. Whatever reason for your 6-month re-care appointment, we will ensure you are remaining in the best possible oral health.
To schedule an appointment for an initial, comprehensive, emergency, or 6-month re-care checkup, call (610) 929-7900. As a Reading, PA family dentist, we will be happy to provide you with the dental services you and your family needs to stay healthy. Since we are a kid friendly dentist, you can count on us to provide preventative dental care and dental cleanings for teeth so your children can avoid getting unnecessary toothaches. Simultaneously, if you or your children damage a tooth or have a problem, we are a 19605 emergency dentist and happy to help.
---
Related Posts
April 7, 2021
Looking for a new family dentist in your area? Since there are different types of dentists to choose from nowadays, choosing the right one is important. Ready to learn more about …
---