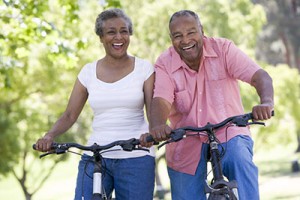 If you are missing one or several teeth, schedule an appointment with Muhlenberg Dental Associates by calling (610) 844-9825. At our Reading, PA dental office, we can replace your teeth using several solutions, including dental implants, dentures, and partial dentures. There are unique advantages to each of these solutions, and which one we recommend will be based on your overall oral health and smile goals. When you visit our 19605 office, we can examine you and make a recommendation as to which solution we feel will be best for you.
If you are wondering, should I get dentures or dental implants for missing teeth, visit our Reading office for a consultation. In the meantime, here are a few things to consider about each solution.
Time Matters
When time is of the essence for replacing one or several teeth, you may want partial dentures or full dentures in the case of complete tooth loss. They are created using an impression of your mouth and measurements taken in our 19605 office. After being created in a dental lab, we will have you come in for a fitting to make sure they are snug, secure, and comfortable. Any adjustments will then need to be made. While it takes a couple of appointments, this process can still be faster than dental implants because implants are placed surgically, and the process of osseointegration should take place prior to the new tooth being attached. This can take several months.
Convenience
If you want a solution that is as convenient as a natural tooth would be, you want dental implants. This is the only solution that is surgically placed, giving you a new root system and tooth. As a result, your replacement tooth will gain the security only the jawbone can provide. Simultaneously, dental implants look and behave exactly like natural teeth for the most attractive solution. They do not require any additional care steps, so all you need to do is brush and floss like normal. This is opposed to dentures and partial dentures that need to be removed on a nightly basis to clean and soak.
At Muhlenberg Dental Associates, we realize that each of our Reading, PA patients are different. As a result, we continue to offer multiple solutions to solve common oral health problems. To find out whether you should get dentures or dental implants for missing teeth, call (610) 844-9825 and schedule an appointment with our 19605 dental office.
---
Related Posts
January 6, 2019
Dental implant placement is a great way to replace missing teeth, but it can be a fairly invasive procedure and involves a surgical component. Subsequently, it is important to find the right dental professional to …
---